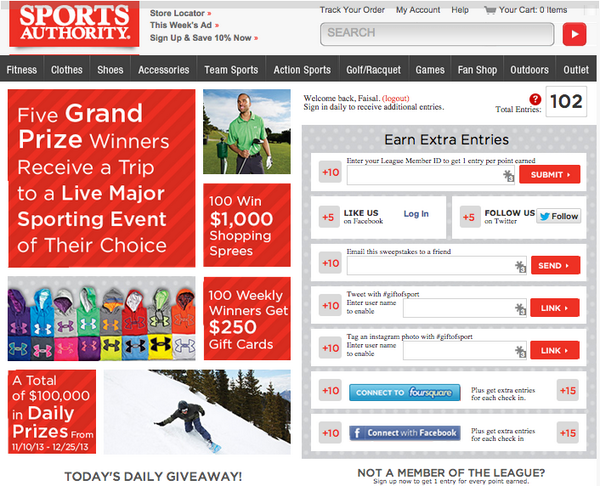 Sports Authority currently enjoys one of the largest footprints of major sporting goods retailers in the United States. Like other large sporting good retailers, Sports Authority is constantly looking for innovative ways to grow the top end of its loyalty initiative. The platform for its CRM initiative is a loyalty club called 'The League' and allows members exclusive access to promotions, discounts and the ability to earn points for purchases. With the holiday season around the corner, Sports Authority was looking for a big impact promotion to drive acquisitions of new members as well as engagement with current members.
Digital engagement
partner Brandmovers helped put together a turnkey digital experience that leveraged gamification, social integration and prize giveaways to help Sports Authority accomplish its goals.
Here is how they did it:
• A digital destination was developed called 'The $500,000 Gift of Sport'
• Customers heard about the experience through CTAs in Sports Authority Social, Email, In Store and On Air
• Users arrived at the landing page and registered their personal details and joined 'The League Club'
• Prizing included in-kind merchandise as well as gift cards
• Here's where the fun begins: After registering, users were given 'points' or entries for each gamified action taken.
• Actions included: liking on Facebook, following on Twitter, emailing the promo to a friend, tweeting #giftofsport, tagging a photo on Instagram and other options
• For each action, more entries were gained for a total possibility of earning up to 65 entries
By the end of the 45-day campaign, over 170,000 unique registrants entered the promotion helping Sports Authority meet and exceed its acquisition target. From an engagement standpoint, over 4.3 million total entries were generated across the 170,000 participants yielding millions of touch points and exponentially more organic and earned impressions for the brand on the big three social channels. The site also saw over 600,000 visitors generating over 25,000 hours of site time and brand engagement.